Make business payments by American Express and earn points.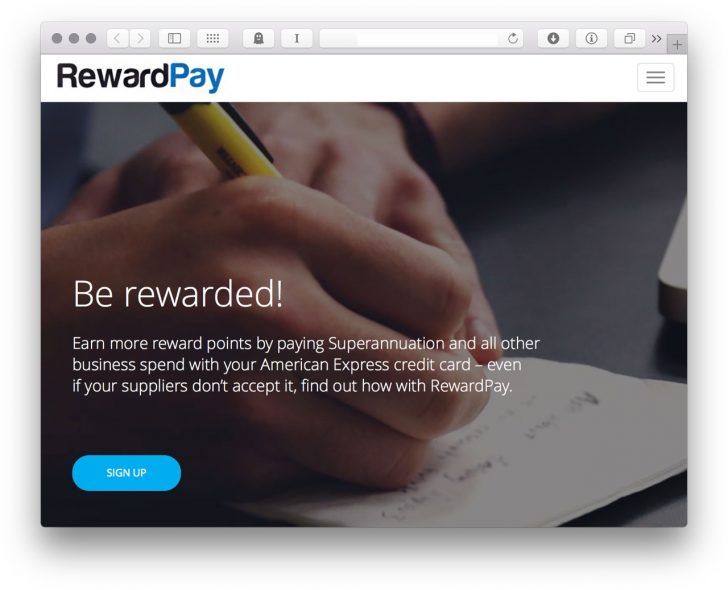 RewardPay has been up and running now for around a year and is aimed at SMEs who want to pay suppliers by credit card – and at that, with American Express cards only.
In short – RewardPay allows you to make payments that would normally be done by bank transfer, but on your points-earning credit card instead. For the privilege, they charge a fee (to the payer, not payee).
The cost makes most sense if you have a high-points earning card – RewardPay charges 2.4% plus GST for each payment. There are a few specific credit cards – especially the American Express Business Accelerator – and circumstances where this approach to earning points could work if you're a small business owner.

Disclaimer: RewardPay is a Point Hacks commercial partner as of April 2017. We originally wrote about RewardPay in 2016, and this content reflects our personal opinion of the service as a long-time user.
I have now been using RewardPay since the middle of 2016, and have put total payments into the tens of thousands of dollars through them, so I have a fair understanding of how the service works and having recently met some of the team, have some confidence that they working hard to provide a good service for their customers.
A quick intro to RewardPay
RewardPay's own site is pretty explanatory about why you should use their service – pay your ordinary business expenses for suppliers that don't take credit card, to the ATO for your tax bills, or for superannuation payments, and earn points.
There are a few non-points benefits too – primarily that you can use your credit card to improve your business cashflow.
Payment recipients do not need to be registered with RewardPay – but they will see 'RewardPay' and your reference number in the payment description in their bank account, so it's not a completely hidden service to them.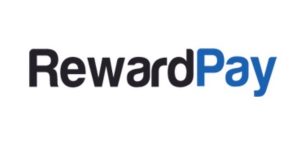 RewardPay eligible payments
Essentially Rewardpay steps in any time you would usually make a regular EFT / bank transfer to make a payment from your bank account. Payment recipients need:
An ABN
An Australian bank account with BSB/Account Number
A phone number and address
An email address to send an (optional) payment confirmation to
BPAY doesn't get involved anywhere, so if a payment recipient only accepts BPAY, you're out of luck. But I imagine the majority of payees could be used with the service.
How a RewardPay payment works for you and the recipient
RewardPay has an easily understood concept of payees and payments. Payees can be set up and stored for reuse, while payments are made on demand to the stored payees. Payees and payments can be created by hand on the website, or by uploading batch files for larger payment runs.
Payments will take around 3 to 4 business days to hit the recipient's account, so this isn't a service to use for last minute or quickly needed payments.
When you go to make a payment to a previously created payee, you can then add payment reference details – one for your own credit card statement, and the other for the recipient's bank account.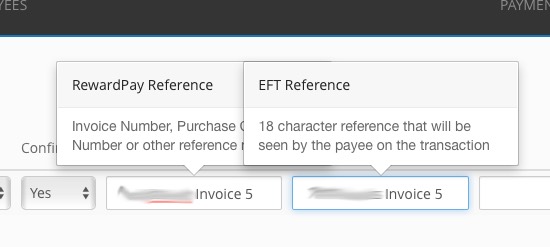 When you make a payment, RewardPay will ask you for your credit card details and SMS you with a confirmation code. Once complete, from the payment confirmation screen you can then download a PDF Invoice for the RewardPay fee and GST.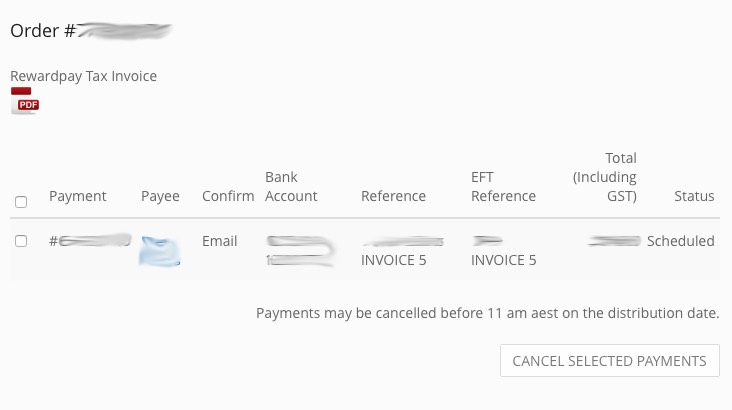 Worth noting – the PDF invoice only has the RewardPay fee included, but the fee is not charged independently to your credit card. You or your bookkeeper will need to link your supplier's invoice with each RewardPay invoice to correctly account for the fee that shows in your credit card statement.
The details appear on both statements with "Rewardpay" in front of the details you input. Here's what it looks like to a recipient in their bank account:
Using RewardPay to pay the ATO
This is also possible, and cuts out the ATO's fee as you are making a bank transfer, via RewardPay, to the ATO instead of using the usual EasyPay portal and the associated merchant fees. You'll pay the RewardPay fees instead, of course.
We've dug into this more in our guide to earning points from ATO payments here, but this is most useful for American Express-issued cardholders as payments for 'government' transactions for their cards only pay out at 0.5 points per dollar. Despite the ATO's lower surcharge (of 1.45%) when paying directly, the ability to earn full points on your card and paying via RewardPay may be more appealing.
RewardPay's fees and the Credit Cards that might work best with RewardPay
RewardPay charges a fee of 2.4% of the total transaction, plus GST on that fee. While that surcharge are first glance seems too high to want to use to essentially "purchase points", if you dig into how this can work a bit more it starts becoming an option.
Firstly, assuming you are GST registered and your business makes a profit with GST to offset, then you can ignore the GST component of the fee.
That leaves a 2.4% surcharge to factor in, which on a card which earns equivalent of 1 frequent flyer point per $, is above my personal threshold for paying to buy points.
So the key to making RewardPay work is an American Express card that can be used for Business Expenses which earns more than 1 point per $, which brings the effective cost per point down.
This means:
With a 2 point per $ earn rate you're effectively paying 1.2c per point when using RewardPay
With a 1.5 point per $ earn rate you're purchasing points at 1.6c per point
For the next part, you should really consult your accountant (I am not one) to make sure this analysis is correct and you don't have different tax implications.
The payment fee is a business expense, so again, assuming your business is healthy and making profit, and you're willing to absorb some cost to take advantage of earning points and the cashflow benefits of using Rewardpay, you could consider the cost to be lower still.
You would be reducing your taxable profit by the amount of the fee (as a cost going out of the business). When tax on company profits is at 30%, as it is currently, the $100 fee would result in $30 less tax being paid.
That means an effective 30% reduction in the cost of the points being earned:
With a 2 point per $ earn rate the net cost is 0.84c per point
With a 1.5 point per $ earn rate the net cost is 1.12c per point.
What cards could work best with RewardPay
There are a few American Express options that earn the equivalent of at least 1.5 frequent flyer points per dollar.
Three key cards to consider using with RewardPay
Here's a longer list of options:
Business Cards:
American Express Business Accelerator – this earns 2 Membership Rewards points per $ on all spend up to $50,000 per year. That's equivalent to 2 frequent flyer points per $
Westpac Altitude Business Platinum – this earns 3 Altitude points per $ on the Amex, or 1.5 Velocity points per $ as well has including Qantas Points as a transfer option
Commonwealth Bank Platinum Business – earns 1.5 Qantas or Velocity Points on the Amex
Personal Cards:
Note that Westpac, NAB and Commonwealth are yet to adjust their points earn rates with the current RBA legalisation changes coming through, so those could change.
It's also worth considering that, in some cases, you should be careful using a personal card for business expenses – for example, ANZ don't like personal cards being used extensively for business purchases, and say so in their terms and conditions (so I've excluded them from the list). Your mileage may vary, so dig into those terms and ensure you aren't going to be pushing the boundaries.
American Express issued cards though have no such problem – Amex consumer cards don't mention any issues around earning points for business transactions.
Summing up
RewardPay is not an option for everyone to start paying every bill they have using the service – it is specifically designed for business to business payments. That said, it will work for businesses of any scale, as long as you have an ABN.
When they originally launched, there were a few teething problems and the customer service could have been more effective. However having used them for the best part of a year and interacted with the team both as a customer, and as owner of Point Hacks, I have confidence in their operations. That said, you should do your own research if you have concerns – do try contacting them with any questions you have.
The key to actually benefiting from the service is to ensure you make the most of the cashflow benefits for not paying bills early, and that you are earning enough points from your American Express card – 1.5 frequent flyer points per $ or more, in my opinion – to make the cost worthwhile.
Find out more about Point Hacks and how they can help you make the most of your reward points.